National Sex Ed Conference Blog Submissions

For the next several weeks, we'll be posting attendees' thoughts, impressions, and takeaways from the National Sex Ed Conference. Please email Jennifer Hart, CFLE's blog manager, with your submission, limited to 500 words or less.

To kick us off, we'll hear from Jocelyn Schur, a CFLE Scholarship Recipient and emerging sex educator, who submitted a letter to the conference co-chairs and staff.



Dear Catherine, Karen, Bill, and Jeff:
Thank you for putting so much energy and time into this year's National Sex Ed Conference.
Some highlights of my conference experience include:
Attendees brought so much expertise and everyone seemed so excited to be there rather than attending out of obligation as I've noticed at other trainings/conferences
The brilliance of utilizing scholarship recipients as volunteers. I loved connecting with other volunteers and felt like I had the chance to earn part of my scholarship by pitching in (would loved to have helped more)
I'm crazy about Karen Rayne's sex ed games that we received in our bags-I will hang on to my love bug and definitely use the clever activity to teach about romance!
The presenters were generous with their time and business cards. I really valued the opportunity to talk over meals and connect informally.
I had the incredible opportunity to be the moderator for Dr. Carerra's Above the Waist pre-con and am now exploring employment opportunities with his programs

I so valued the opportunity to learn from and connect with Sam Killerman, Trina Scott, Leslie Kantor, Al Vernaccio, Debra Haffner, Wayne, Pamela Wilson, Mary Jo Goddard, Elizabeth Casparian, Allyson Sandaky, Andrew Smiley, Monica Rodriguez, Steve Brown, and so many others.
By the end of the conference, I realized my interests in sex education, violence prevention, and youth development are deeply connected and there's no need for me to focus on any one area. Instead, I want to work in the exact space where they intersect. Another result of my conference experience is that I'm seeking opportunities to become a trainer in trauma informed care. Judging by the high attendance at Steve Brown's workshop, there is a definite hunger for this information. I'd love to be part of the movement to ensure educators and providers are trauma-informed. Today I feel inspired to follow Heather Corinna's path to be an entrepreneur in the field. I am even thinking of how I might team up with Al Vernacchio to create a working Sexuality ABC's that teens around the world can contribute to and create a space for discussion and learning.
I don't know where I'll be a year from now, but I know that I will do everything in my power to return to the conference. I can't think of a better investment of my time and money. You can count on me to help promote future conferences and recruit friends and colleagues to join! I'm excited to feature the conference and a few of my favorite conference discoveries in my monthly newsletter that goes out to my 200+ followers.
I hope you will share my words with the generous donors who make the Pay It Forward scholarships possible. If there's ever an opportunity to help, I'd love to be a part of the magic that makes the National Sex Ed Conference the best conference for sex educators! As you can tell, I had a good time.
*I was thinking to share this with the volunteers, and PPCGNNJ Educators/Staff who volunteered at the National Sex Ed Conference included on Bill's thank you e-mail note. If it's appropriate please forward, since I don't want to blast your people with my long winded note of gratitude!
Thanks to all of you for this experience. I will be sure to pay it forward.
Warmly,
Join the CFLE
mailing list
to
stay on top of sex ed news and information:
Start out the New Year with some fresh ideas from the Sex Ed Store: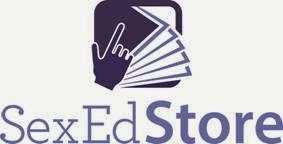 Follow us on twitter at: @SexEdNetwork